SkyDive Trio
SKYDIVE TRIO
Thomas T Dahl, guitar
Olavi Louhivuori, drums
Mats Eilertsen, bass
NEW ALBUM OUT @ Hubro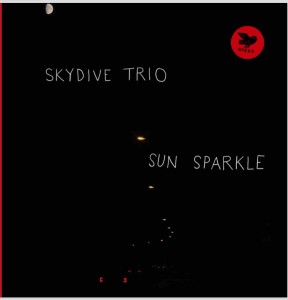 reviews:
Tour:
31.Jan Nasjonal Jazzscene, Oslo, N
2.Feb Paradox, Tilburg, NL
7.Feb Tromsø Jazzklubb, N
8.Feb Hamar Jazzklubb, N
9.Feb AdLib Jazzklubb, Bodø, N
25.May Nattjazz, Bergen, N
Have a listen!!
Previous album Sun Moee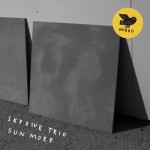 Skydive Trio is a good old-fashioned guitar-trio firmly rooted in melodic soil nurtured by the rich harmonies and fullsounding guitarwizardry of Thomas T Dahl surfing on the driving, rythmic waves from Finnish drummer Olavi Louhivuori and Norwegian bass-player Mats Eilertsen.
Sun Moee features in length for the first time Thomas T Dahls wonderful artistry as a frontman as well as several of his beautiful, intriguing compositions like Slow Turn, Talbot and title-track Sun Moee.
The other compositions are penned by Olavi and Mats in addition to a cover-version of Sour Times, from British group Portishead.
The album was recorded in the Village Recording Studios in Copenhagen and released on Norwegian label Hubro.
The trio has been working extensively together for many years, on Mats Eilertsens 2 earlier Hubro-albums "Radio Yonder " (2009) and "Skydive"(2011) as well as Mats Eilertsens comissioned work for 7 musicians "Rubicon" at the VossaJazz-festival in 2014.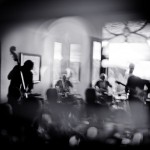 Guitarist Thomas T. Dahl studied at the Trondheim Conservatory of Music and made his breakthrough with the prize-winning band Krøyt, featuring vocalist Kristin Asbjørnsen. He has an amazing instrumental capacity, equally at home in various styles and genres, chordal structures, sonic cinematic landscapes and more modern pop/rock-oriented projects really using the full potential of his guitar, the rich full string sound combined with tasty drops of electronic treatments. He writes beautiful, intriguing compositions, featured on Sun Moee.
Thomas has released albums with the band BMX with Per Jørgensen, Dingobats with Eirik Hegdal, and has collaborated with Erlend Skomsvoll, Jon Balke, Hilmar Jensson, Nils-Olav Johansen, Jim Beard, John Inderberg and produced Highasakites debut album. He is also associate professor at the Griegacademy in Bergen.
Mats Eilertsen, from Trondheim, Norway, has a special warm and lyrical way of treating the bass, being steady and experimental at the same time, bringing it all together and yet showing openness, willingness, and constantly searching for new sounds.
He is a very active and productive musician, a and has over the years appeared on albums by ECM-associated bands and artists like         Tord Gustavsen Ensemble, the Source, Wolfert Brederode Quartet, and Parish, as well as Håkon Kornstad Trio, Food with UK saxophonist Iain Ballamy, Jacob Young Band, Solveig Slettahjell's Slow Motion Orchestra and Håvard Wiik Trio.
He has released several albums in his own name on the Hubro-label and also made a commissioned work, Rubicon, for a 7-piece ensemble at the VossaJazz-festival in 2014.
He has also had the opportunity of performing with international stars such as Pat Metheney, Joshua Redman, Lee Konitz, Bobo Stenson, Kenny Wheeler, Tomasz Stanko, and participated on nearly 100 albums by now.
Olavi Louhivuori is a wonderful, sparkling Finnish drummer and percussionist with high energy and a real, positive vibe to his playing, inviting and challenging his fellow musicians to stretch for the utmost of creativity and musicality.
He has studied drums and composition at the Sibelius Academy. He has received the "Young Nordic Jazz Group" award three times with three different bands: the Joona Toivanen Trio, the Ilmilekki Quartet and the Sun Trio.
Olavi has played and toured extensively with the polish trumpeter Tomasz Stanko was well as Anthony Braxton, Marilyn Crispell, Susanne Abbuehl, Kenny Wheeler and. He has releases several album with his own bands and under his own name and received the Finnish Emma Award for Oddarang in 2007.
Olavi also composed a drum-concerto for a full symphony orchestra with himself as a featured soloist.
"noe av det fineste vi har hørt på jazzfronten så langt i år"
Svein Magnus Furu, Kulturnytt Nrk P2
"En trio med tre sterke stemmer"
"Samspillet i denne trioen er telepatisk"
"Ein manifestasjon av strålende samspel"
"Ei plate for langt fleier enn dei gitarfrelste"
Dag og Tid (N) English