Mats Eilertsen -Memorabila- 
Mats Eilertsen Trio + Trio Mediaeval
Anna Maria Frimann Henriksen, vocal
Jorunn Lovise Husan, vocal
Linn Andrea Fuglseth, vocal
Harmen Fraanje, piano
Thomas Strønen, drums
Mats Eilertsen, bass/compositions
Memorabilia, skrevet i 2016 for Trondheim JazzFestival.
Mats Eilertsen Trio i møte det unike vokalensemblet Trio Mediaeval.
Memorabilia, -begivenheter, gjenstander, episoder og hendelser som er minneverdige-,
Basert på tradisjonelle messe-tekstledd, tekster fra Tor Ulven og rene instrumental partier.
-Om Tro. Tvil. Tid. Løsøre.
Hva samler vi opp og hva sitter vi egentlig igjen med av betydningsfulle minner, gjenstander, hendelser i løpet av et liv? Husker vi og vektlegger vi de same ting og hendelser? Hva betyr egentlig noe til syvende og sist?
Tor Ulvens forfatterskap er preget av en kretsing rundt temaer som død og forgjengelighet, samtidig som hans originale bildebruk understreker eksistensens magiske kvaliteter.
Premiered at the Trondheim JazzFestival, may 2016.
Consisting of texts from the traditional mass mixed, blended and contrasted with poems by the Norwegian writer Tor Ulven.
Mainly about what our memory consists of, after all the days lived, what images, what episodes remains in our memory!
Do we remember and emphasize the same, even if we do experience the same?
This contrasted by texts from the Mass; Agnus Dei, Sanctus, Gloria, Kyrie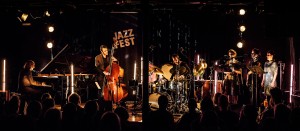 More photos from Thor Egil Leirtrø
Minutter, kanskje timer av din egen eksistens
som du har glemt, men som jeg
husker. Du lever et hemmelig liv
i en annens minne
(Tor Ulven)